Our Philosophy
Building Rainbows provides an excellent environment for nurturing children's growth and development. Our atmosphere is positive, joyful, safe and filled with fun. Our interactions with the children, and one another, are positive and respectful – we place emphasis on assisting in the development of healthy communication skills.
We challenge our children to be "problem solvers"; to ask questions and look for more than one solution. We lovingly guide children as they seek solutions to the "struggles" they encounter in the process of learning, playing and growing.
We remember always that they are children – at the very beginning of a great adventure. As leaders of the children, we are here to show, teach, explain, guide, give them a hand to hold, be patient – for as long as it takes for them to grow strong.
Since 1982, our Cypress location has provided a high quality learning environment. Our definition of high quality includes:
Maintaining staff-to-child ratios that are below state licensing mandates

Safe and clean environments

Well-trained, caring teachers and staff

A pre-school curriculum that lays the foundation for future educational success

An abundance of classroom supplies, materials and resources

An environment that encourages children to enjoy learning, questioning and exploring

Well-equipped playground areas with plenty of spaces to play and run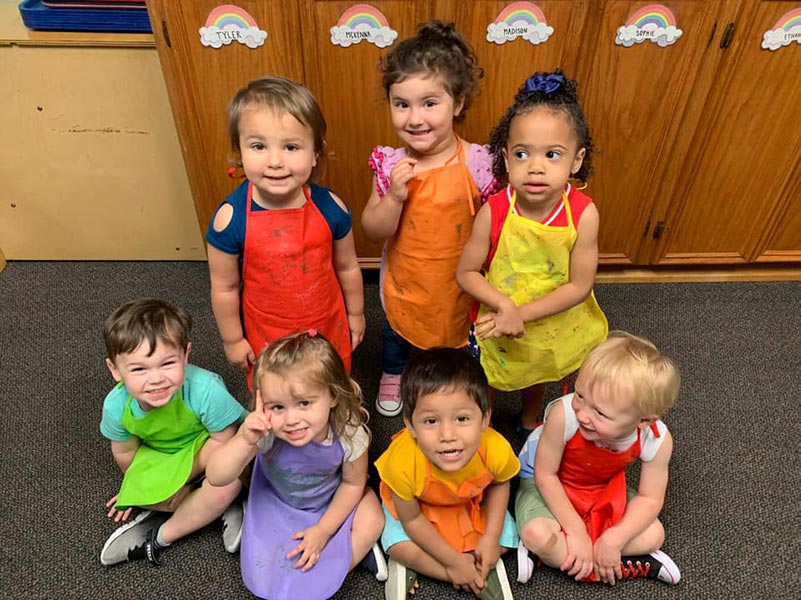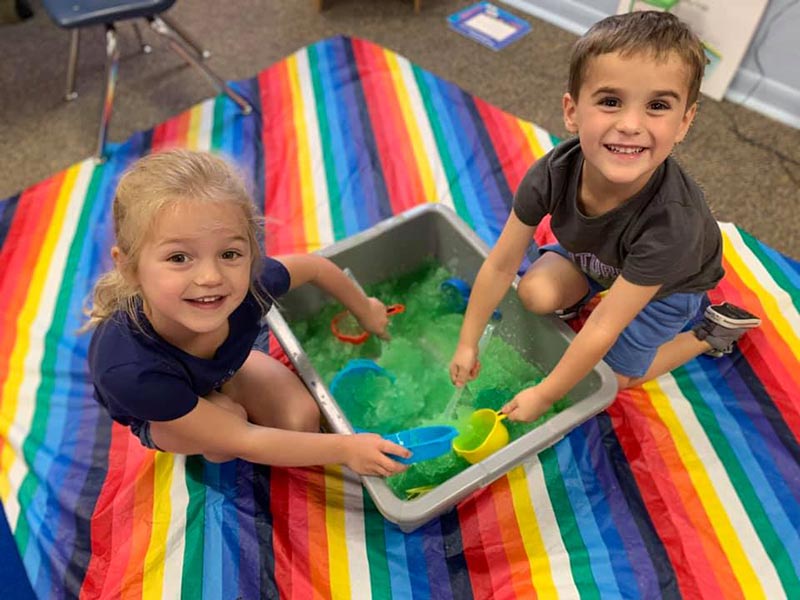 A Day at Preschool
Sample Itinerary and Activities for Your Toddler, Preschooler or Pre-K children at Building Rainbows Day School. The times will vary by age and subject to changes because of weather conditions:
Arrival and Breakfast

Circle Time

Morning Outside Play

Snack

Centers (Science, Math, Art, Language, Sensory, Library, Computer, and more)

Story Time

Lunch

Nap Time

Afternoon Circle Time

Snack

Afternoon Outside Play

Centers

Goodbye hugs and high-fives at the end of the day!
Our History
Our beginnings go back more than thirty five years ago when a small church provided child care for young children in the neighborhood. When the church lost its funding and the school was going to close, Donna Frederick bought the two small buildings right around the time she was in the process of looking for child care for her own son. She called up several friends and contacts with young children that had previously been teachers in area school districts and began plans for a preschool where children could come to play and learn through truly hands-on activities. Building Rainbows officially opened in November of 1982 with 14 children.
Over the next 24 years, more and more families brought their children to Building Rainbows. Our ties within the community strengthened as our reputation for providing excellent early childhood care grew. A new era began when parents who had once been preschoolers here brought their little ones to play and learn at Building Rainbows.
In January of 2007, Donna sold the school to Steve Sandweiss and he has continued to uphold the positive traditions of Building Rainbows as a quality preschool for young children. It is still our belief that learning should be fun and that children learn best when provided with hands-on learning experiences.  
In January of 2012, our second location in Tomball opened. Our new location shares the same goals and ideals for young children – "A Terrific Place to Grow and Play!"
Texas Rising Star Certified
Texas Rising Star is a quality rating and improvement system for Texas early childhood programs. Grandma's House has achieved the highest possible rating (4 Stars) under this system. The Texas Rising Star program is "a voluntary, quality-based child care rating system of child care providers participating in the Texas Workforce Commission's subsidized child care program." TRS Certification is available to Licensed Center and Licensed and Registered Child Care Home providers who meet the certification criteria. The TRS Provider certification system offers three levels of certification (Two-Star, Three-Star, and Four-Star) to encourage providers to attain progressively higher certification requirements leading to a Four-Star level.