Building Rainbows Day Care in Tomball, Texas
A Terrific Place for Children to Grow and Play!
Building Rainbows Day Care has a second facility in Tomball, Texas, which started operating in January 2012. Our commitment to providing exceptional Early Childhood Education and Child Care means you'll feel the embrace of a close-knit family. Our center is privately owned and operated, and we hold a license from the State of Texas to ensure quality child care.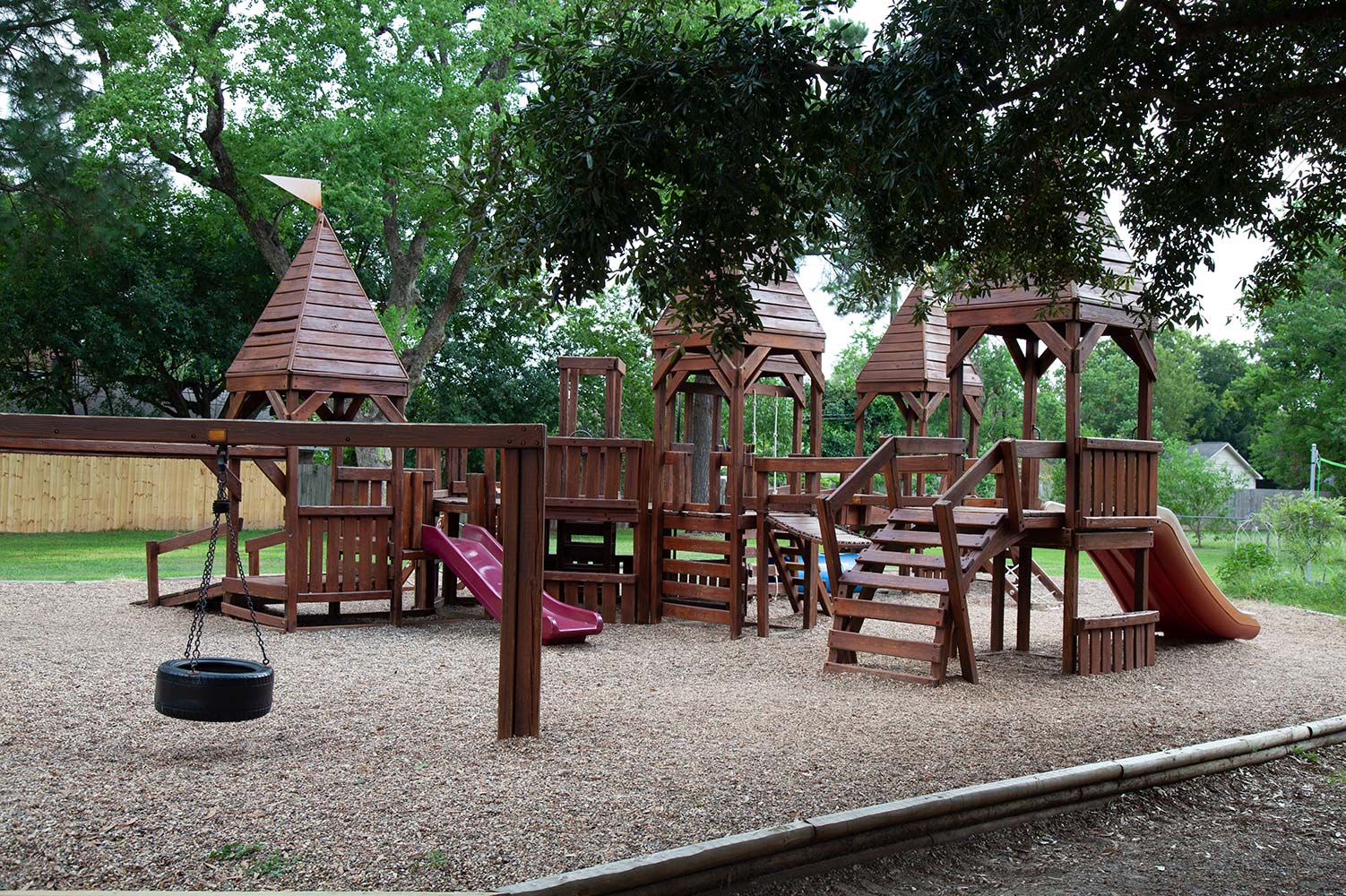 Our Building Rainbow's Tomball location boasts the following:
Located across from the Tomball Post Office

Easy access to Tomball Medical Center and Four Corners of Tomball

Childcare for children from six weeks to 12 years of age

Three infant classrooms with low student/teacher ratios

Three toddler classrooms and three pre-school classrooms

Newly renovated, state of the art facility with glass partitions throughout the school

Large gym for structured and free play, riding toys and playhouses

Easy drive through with covered pick-up/drop-off and easy parking

Large classrooms with full shelves of toys and learning materials

Scope and Sequence curriculum enhanced by Handwriting Without Tears

Six Age-appropriate playgrounds with climbing structures and swings

Transportation to elementary schools in the Tomball and Klein school districts including Tomball, Canyon Pointe, Decker Prairie, Bernshausen and Williams

Summer camp with offsite and onsite field trips, arts & crafts, cooking and sports

Family events including annual picnic, carnival and Christmas light viewing hayride

Privately owned and operated

Licensed by the State of Texas
Same location since 1982

Located on a quiet residential side street in Cypress

1 mile North of 290 off of Huffmeister

2 shaded Acres of age-appropriate playgrounds

Outdoor area for basketball, volleyball and kickball

Two toddler playgrounds and separate pre-school playgrounds

Serving Children from 12 months-12 years of age

Experienced long-term teachers

Director has worked here for 30 years

Scope and Sequence curriculum enhanced by Handwriting Without Tears

Center based activities 

Gardens and outdoor classroom

Small class sizes

Transporation to several Cy-Fair ISD elementary schools including Lamkin, Millsap, Adam, Farney, Hamilton, Sampson and Black

Extensive Summer Camp with onsite and offsite field trips, arts & crafts, and sports

Privately owned and operated

Licensed by the State of Texas
Steve Sandweiss – Owner
Steve came to play at Building Rainbows in 2007. After working with the "big kids" in the corporate world, Steve wanted to spend more time with his own family. Mr. Steve is a Cardinals baseball fan and enjoys traveling. He has three children of his own.  Mr. Steve owns other schools in the Katy area including Tiger Land Child Care and Grandma's House Child Care and West Oaks Private Pre-School.
Veronica Gonzales – Director
After working at the Cypress location of Building Rainbows for more than 14 years, Ms. Gonzales became Director of the Tomball location upon its opening in January 2012.  Ms. Gonzales has experience working with all ages of children and is a master of calming upset children with her loving and soft voice. Ms. Gonzales can be reached at buildingrainbows.tomball@gmail.com.